Description
How to help your child take BRAVE steps to communication, understanding and applying RESILIENCE
I am so excited to tell you that I have decided to offer 4 MASTERCLASSES with my amazing psychologist colleague Lynne Kendall from Australia. Her mission is to equip families with practical skills for their children to help them dislodge the discomfort of negative experiences, and instead, understand their experiences, using the unique mathematical formulas contained in her children's book, discovery journal, and online courses.
The masterclasses will be at the weekend so both parents can attend, as well as have the opportunity to have Lynne live with us, due to the time difference!
These events will be on a monthly basis, and there will be a presentation and then the chance to answer the questions that you have for us.
Here is the program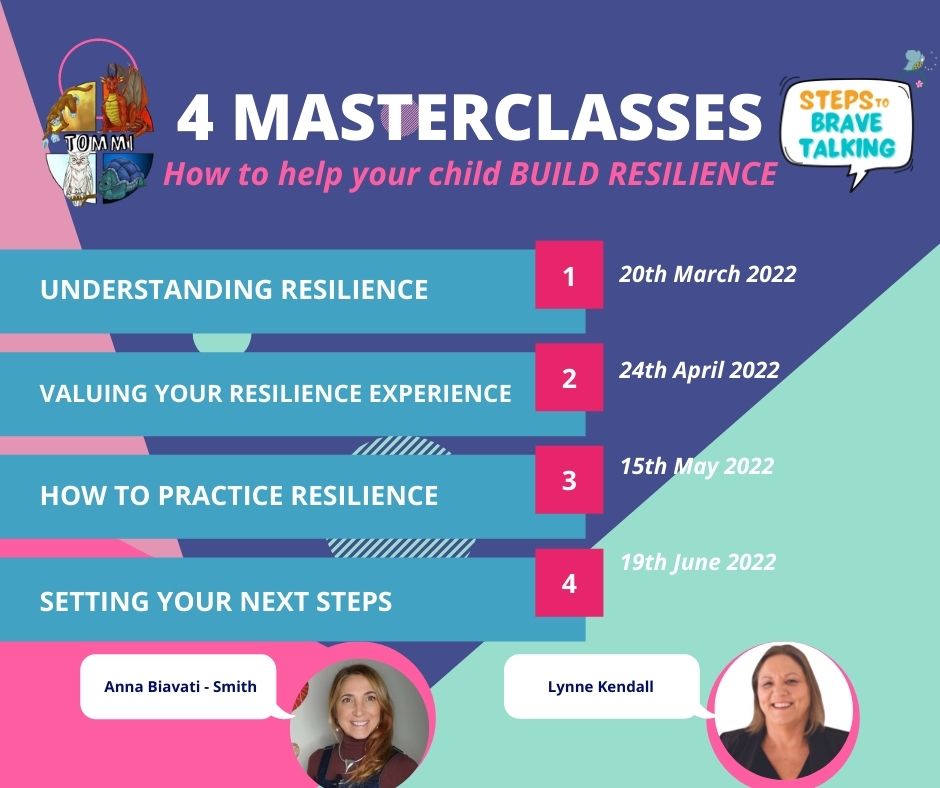 Masterclass 1: Knowing Resilience
"The value of venturing into new experiences is to stimulate different perspectives and ideas that connect you to resilience."
Learning about resilience is learning about every aspect of our lives. Getting to know resilience provides us with the opportunity to nurture, develop, and understand ourselves and our children's experiences. We all have different unique life experiences for us to explore.
Masterclass 2: The Value of Resilience
"Life is a blank canvas for us to create the masterpiece of our lives through experiences. Every experience we have, even the tricky ones, creates a unique artwork that tells a story."
The value of resilience is to provide our children and us with the tools and strategies to understand and learn about their life experiences.
Masterclass 3: Action of Resilience
"Action is the first step to turn the invisible into the visible."
Action is to move from one place to another place. Moving from challenges to resilience is the ultimate goal for us and our children. We need to understand how our children or us connect to the experience to take action.
Masterclass 4: The Future of Resilience
"You are creating your life with every intention, every thought, every emotion, and every action."
A resilient lifestyle is when we enjoy and embrace every positive or negative experience that comes our way. The joy of resilience is embracing and thoroughly exploring the experience and connecting to the experience's meaning and what it is here to teach us. Our brain likes to keep active, and the more experiences we give it, the more the brain embraces resilience.

Dates
Sunday 20th March 2022 from 9.15 to 10.15 am Uk time
Sunday 24th April 2022 from 9.15 to 10.15 am Uk time
Sunday 15th May from 9.15 to 10.15 am Uk time
Sunday 19th June 2022 from 9.15 to 10.15 Uk time
Frequently asked questions
Are the sessions live?
Yes the sessions will be live with me and Lynne, and you will have the opportunity to have your questions answered

Will I be able to watch the replay?
Yes, once you book your space you will be able to watch the replay, so in the event that you cannot make it, you know that you can watch it again, but also you can watch it again to consolidate your learning.