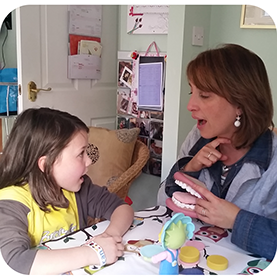 Learning to speak is a crucial part of a child's development. The progress made in the preschool and early school years is important to mastering the rules of language.
During their development children tend to simplify speech as they are learning to talk. They do this because they don't have the ability to coordinate the lips, tongue, teeth, palate and jaw for clear speech. As a result they simplify complex words in predictable ways until they develop the coordination required to articulate clearly. For example, they may say "pane" for "plane" or "nana" for "banana."
Children can present with a range of different speech sound difficulties. Some children may not be able to use a specific sound or sounds in their speech. Children's speech sound difficulties can have an impact on their ability to make them feel understood and developing reading and writing skills.
Evaluating your child language
In the initial assessment I can establish the appropriate goals and baseline data to assist with tracking future progress.
I have a lovely therapy room where you can come and feel relaxed with your child, and my aim is to play and make your child feel at home because this will help your child to find it easier to transfer skills they were learning in therapy
My sessions fun and playful. This encourages your child to understand about sounds and how we produce them. As such your child experiences and learns through a natural process.
Parents/carers are encouraged to participate in therapy sessions so that they can play an active role in the child's progress. I believe that such a team approach is essential to your child's success.
I provide private speech and language therapy that focuses on an individual's personalised goals.
Read more on my blog
[category_query column_layout="3″ category="speech-sounds" posts_per_page="3″ npg="1″ post_type="post"]